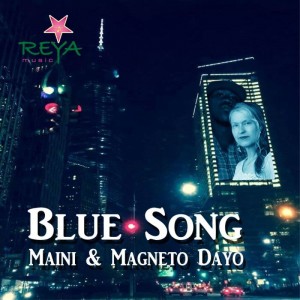 A very exciting new single is released on June 9th 2014! Maini and the American rapper Magneto Dayo from Brooklyn, New York have released their first collaboration Blue Song. Dashawn Dayo Williams, better known by his stage name Magneto Dayo, contacted Maini and suggested a collaboration.
Magneto Dayo has written songs for some of today's top artists in rap/hiphop and r&b and now plans to step from behind the scenes and show his talent.
Maini's clear voice, Magneto Dayo's brilliant rap and Gary Cornman's great lyrics blend together and create a perfect summer hit.
Maini has, as always, written the music. The remix is by Carsten Lehmann from Germany. The label behind the release is Reya music from Sweden.
Blue Song is available in web shops around the world. Here is the link to Blue Song at iTunesUSA, iTunesUK, iTunesSweden, iTunesGermany, iTunesFrance, iTunes Canada, iTunesItaly, iTunesFinland, iTunes Norway, iTunesSpain or follow one of the links and switch the little flag top down right on the page to your country's flag. You can also listen to Blue Song at spotify.
Maini & Magneto Dayo – Blue Song video is about to be released. Video Director is Johan Zetterlund from Sweden. The video is a perfect road movie with pictures from Florida that you can watch over and over.
CD artwork layout is by Marjo-Riitta Oksanen, cd artwork pics are by Johan Zetterlund, Anita Hamilton and Magneto Dayo.
Posted in:
Buy cd
,
cd
,
cd release
,
download
,
female vocalist
,
Listen
,
maini
,
Maini Sorri
,
music
,
My music
,
promotion
,
Record deal
: :
Comments Off

on New York and Sweden – Two worlds meet in a new single Blue Song