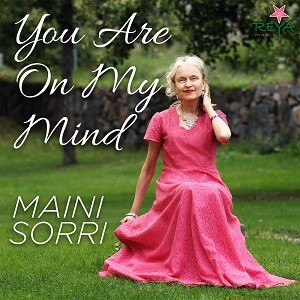 Maini Sorri's single You Are On My Mind  got great reviews. Tunedloud Magazine wrote:
"The song is a collaborative effort by lyricist Barbro Norberg, music composer Maini Sorri, who also sings the song, and instrumental maker Jaakko Viitala. The track deals with Norberg's sense of loss and longing after her dad's passing away."
"If you're looking for songs with lots of emotional depth and substance, this is the track for you."
"It's a track by a mature woman who has mastered expressing vulnerability and celebrating emotions without sounding predictable or highly-strung."
"With a refreshing sense of honesty, tremendous musical instincts and an alluring vocal tone, Maini's connection to the music is an authentic one." Read the whole review from October 26th 2018 here.
Rebecca Cullen at Stereo Stickman wrote: "Maini Sorri returns to release yet another creatively unique single"…."From a songwriting perspective, this is one of the most memorable melodies of Sorri's to date."
"Lyrically the release is a stunning poetic ode to a lost relative. Barbro Norberg writes on the passing of her father in a commendable way, bringing through heart-breaking ideas but also a strong focus on the positives – the good memories, the togetherness. Maini Sorri's gentle voice lets the lyrics shine brightly throughout."
"There's an Enya-like feel to the presentation, the voice drives as if simply another instrument, so the collaboration just works." Read the whole review from October 22nd 2018 here.
Act One Magazine wrote: "The combination of the tone, sound and melody in the music matches the lyrics extremely well and the result is warm, heartfelt and all in all a great song with both a great melody and outstanding lyrics." Read the whole review from October 26th 2018 here.
Music by Maini Sorri. Lyrics by Barbro Norberg. Instrumental by Jaakko Viitala. Label is Reya music, Sweden. CD coverart photo by Johan Zetterlund and layout by Malshan Fonseka, Sri Lanka.
Posted in:
Article
,
cd
,
cd release
,
female vocalist
,
maini
,
Maini Sorri
,
music
,
My music
,
Newspaper Article
,
Recording
,
review
,
single
: :
Comments Off

on Reviews of You Are On My Mind