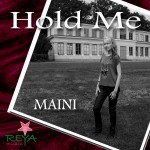 (Single review) Maini Sorri – Hold Me Tuesday, 14 May 2013
This is the third dance release from Maini Sorri. This one is more Pop/ dance crossover song, with a softer beat than the previous dance release of Please Go Away. This is a very nice Pop song and accompanies the voice of Maini very well. Very nice flowing beat and song
This song is very good on a speaker system, but for some reason suffers a little on headphones.
This song is also on the Radio Variety Show May Compilation Competition and for general radioplay.
DJ Readman, UK
Radio Variety Show
Read the review here