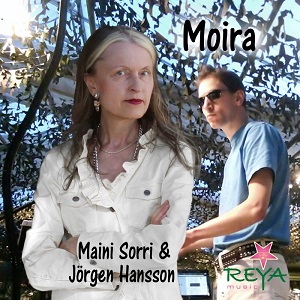 Maini Sorri & Jörgen Hansson's new  pop single Moira is released on March 3rd 2014. Moira is a song about Maini's young fan Moira. Maini gained her as a devoted fan when she sang at Swedish radio Sisuradio's Song contest in Sweden.
Maini has, as always, written the music. Lyrics are by Gary Cornman from USA. The remix is by Jörgen Hansson and the label behind the release is Reya music from Sweden.
Jörgen Hansson is the award winner, multi instrumentalist and producer and the founder of the Fingerprint studio. He was Maini's mentor at The Global Voice Singing Competition. Maini competed with Moira and got a shared second place in the contest.
Moira is available in webshops around the world, on itunes, Amazon etc. You can also listen to Moira at spotify.
Maini Sorri & Jörgen Hansson – Moira video is about to be released. Video Director is W.A. Henderson from Hollywood, LA. The video stars Cindy Clark from Hollywood, LA.
Posted in:
Buy cd
,
cd
,
cd release
,
download
,
female vocalist
,
Listen
,
maini
,
Maini Sorri
,
music
,
My music
,
radio
,
singing competition
,
single
,
USA
,
Video
: :
Comments Off

on Maini Sorri & Jörgen Hansson – New pop single Moira