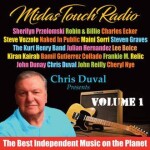 Maini Sorri's song I Fall To Pieces is a part of the compilation album: "CHRIS DUVAL PRESENTS VOLUME 1 /Best Independent Music on the Planet". The album contains 18 songs by artists from around the globe, among them Chris Duval, Relic, Steve Vozzolo, Kiran Kairab and Frankie M etc.
Stream the whole album and read about the artists here.
Music to Maini's song by Maini Sorri, Lyrics by: Gary Cornman. Co-produced by Brian Lanese and Orlando Mestre in The US and mixed and mastered by Brian Lanese. All instruments are performed and recorded by Orlando Mestre.