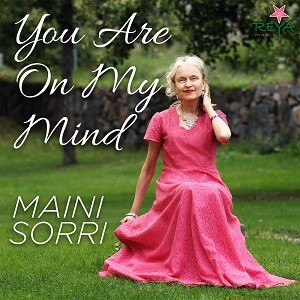 You Are On My Mind single was released on October 26th 2018. Maini Sorri has written the music. Barbro Norberg sent to Maini her beautiful poem about the longing after her Dad that passed away, and asked Maini to compose it.
Maini's album Bring Me Home was released only a month earlier. The new single was released so soon because on November 3rd people in Sweden celebrated All Saints' Day, and also during Christmas time people often long for relatives and friends that have passed away.
You find You Are On My Mind on iTunes, Amazon and your other favourite webshops, and on Spotify and other streaming sites around the world.
Label is Reya music, Sweden. CD coverart photo by Johan Zetterlund and layout by Malshan Fonseka, Sri Lanka.
Posted in:
cd
,
cd release
,
Christmas
,
distribution
,
download
,
female vocalist
,
Listen
,
maini
,
Maini Sorri
,
music
,
Music video
,
My music
,
Recording
,
single
,
Video
: :
Comments Off

on New single You Are On My Mind
No Comments
No comments yet.
RSS feed for comments on this post.
Sorry, the comment form is closed at this time.