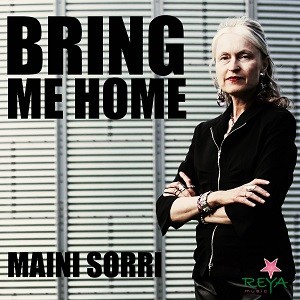 Maini's pop/rock/dance album Bring Me Home got wonderful reviews.
Tunedloud wrote in the review of Bring Me Home on September 15th: "This might be Maini Sorri best album."…"The songs grow with each play, becoming increasingly transfixing, drawing the listener in with their spiral soundscapes and employing Maini Sorri's high-pitched vocals to great, yet subtle, effect."
"This is as downright amazing as it could have been. There's just so many ideas in the heads of Maini Sorri and her collaborators that 6 tracks just doesn't seem enough. There's depth, intensity, emotion, and interesting collaborations on offer, which ticks all the boxes for an extremely memorable recording from Maini Sorri."
Read the whole review here
Rebecca Cullen at Stereo Stickman wrote in the review on September 19th:
" The title track from the project introduces things in a bold way, showcasing retro dance synths and a rising intensity, all woven in among a delicately optimistic and uplifting soundscape – with a vocal line that's as delicate and smooth as you might find in ambient trip-hop. The euro-dance vibe is strong but it comes with a level of heart and depth on this particular single. There's truth in the songwriting and this adds a lot of value and further intensifies that energizing feeling of possibility."
Read the whole review here
Bandcampdiaries wrote in the review on September 10th:
"Maini Sorri is definitely one of the most diverse and forward-thinking artists I've had the chance to discover in recent years. She is always keen on experimenting with a wide variety of different genres, often exposing different creative possibilities and setting the bar higher in terms of what it is possible with music, often collaborating with different artists and songwriters along the way."
Read the whole review here
No Comments
No comments yet.
RSS feed for comments on this post.
Sorry, the comment form is closed at this time.