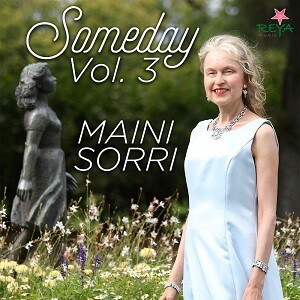 Maini Sorri's compilation album Someday Vol. 3 tells stories of love and heartbreak in equal measure. It was released on June 3rd 2019 and consists of Maini's pop songs that are recorded during a decade. Most of the songs are previously released on different albums and singles, but there is also an all-new song titled Love Bubble, with lyrics by Barbro Norberg.
The title track Someday endured 43 weeks on Music World Radio's Top 20 Charts in Spain among rock groups from America and Europe, including several weeks spent at number 1 and almost 40 weeks amongst the top 5. The lyrics of Someday were originally written in Finnish, as several songs on the album. The legendary Swedish Finnish singer and songwriter Barbara Helsingius wrote English lyrics to lyrics by Marjo-Riitta Oksanen, Mikko Anttila, Maini Sorri, Ritva Östlin and Ritva Ala-Särkelä.
Gary Cornman from the US has written the lyrics to 4 songs on the album. Music is written by Maini Sorri and the label is Reya music, Sweden.
CD coverart photo by Johan Zetterlund and layout by Malshan Fonseka, Sri Lanka.
You can stream the whole album on Bandcamp, on Spotify and other streaming sites around the world. You find Someday Vol. 3 also on iTunes, Amazon and your other favourite webshops.