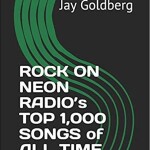 Maini has 2 songs in the book Rock on Neon Radio's Top 1000 Songs Of All Time. The radio station has about 50,000 songs to choose from placing Maini's song in the top 2% of the music available to be played on the station which plays music from established artists and independent artists. The songs in the book are Please Go Away from her album When Two Worlds Meet with the American rapper Magneto Dayo, and the pop ballade Someday from her latest album Someday Vol. 3. Her songs are in the book along with songs by The Beatles, The Rolling Stones, Simon & Garfunkel etc.
Read the pressrelease about the book here.
Read the pressrelease about Please Go Away in the book here.
Purchase the book here
No Comments
No comments yet.
RSS feed for comments on this post.
Sorry, the comment form is closed at this time.