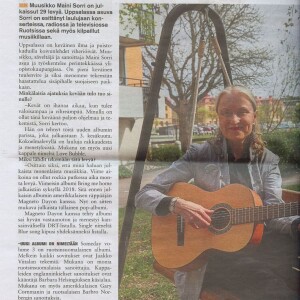 On May 3rd Suomen Uutisviikko (Finland's News week) newspaper published the article about Maini Sorri and her music, by Aleksander Milrin.
Some quotes (translated into English by Maini):
"Musician Maini Sorri has released 29 CD's. Uppsala resident Sorri has performed her songs in concerts, radio and TV in Sweden and also competed with her music."
"Spring is a wonderful time when it is becoming lighter and greener. I had this Spring much program and much to do, Sorri says."
"On the compilation album there are songs of love and loss. Included is also a new song Love Bubble"… "I want to release many kinds of music."
"Last album Bring Me Home was released in the Autumn 2018. Before that I released an album with the American rapper Magneto Dayo."
"The new album called Someday Vol. 3 is a Swedish Finnish album. Almost all songs are arranged by Jaakko Viitala. There are also many Swedish Finnish lyrics writers. English lyrics of these tracks are translated by Barbara Helsingius. There are also lyrics by American Gary Cornman and Swedish Barbro Norberg."
No Comments
No comments yet.
RSS feed for comments on this post.
Sorry, the comment form is closed at this time.