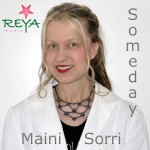 Review of Someday in The Rocker UK, December 23 2010:
"Ms Sorri sings mainly in English, although the lyrics are translations of her original Swedish lyrics, and comes across a bit like a Corr meeting Enya. Which sounds better than it writes. The lead track, in particular, is a fine piece of soft rock that could easily pick up play on BBC Radio 2. As could 'I Am Leaving', which has an excellent melody and some good harmonies".
Review of Someday in Fatea Magazin UK, October 2010:
"The standard for Scandinavian pop was set so high in the 70s that it's never really been bettered, Swedish based Finn, Maini Sorri is the latest to give it a go with five track ep/mini album "Somebody". In fairness it's a reasonable release, classic pop sensibilities, made slightly more exotic by Maini's accent and the way she attacks certain words and phrases, it makes you give it a second take, but ultimately there is a feel of radio fodder about most of the album, until she gets to the reprise of "I'm Leaving", "Lahden Yksin" sung in her own language feels on the mark".