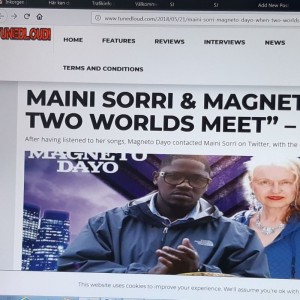 Review of When Two Worlds Meet was published in Tunedloud on May 21st 2018. You can read the whole review "Maini Sorri & Magneto Dayo – When Two Worlds Meet – A Global Sound" here.
Here are some quiotes:
"After having listened to her songs, Magneto Dayo contacted Maini Sorri on Twitter, with the desire to do a track together. They ended up putting together a 10 track album, "When Two Worlds Meet", released via the Reya Music Label, and winning the Arzuk Music Award 2017 in the Best Hip-Hop/Freestyle category."
"Some artists or albums can hit you so hard on a personal level that you can't help but fall for them at first listen. Such is my liaison with Maini Sorri. Maini's voice is such that it blends perfectly with the many varied instrumentation of her compositions."
"With her breathtaking synthesis of Pop, Rock, and Electronic music, she has enthralled many, and now on "When Two Worlds Meet", she takes her airy angelic voice deep into urban music territory."
"He's hard, she's soft. He's tough, she's gentle. He gets down, she moves up. He's the earth, she's the sky. Together they represent the Yin and Yang in every song, completely confirming the theory of how seemingly opposite or contrary forces may actually be complementary, interconnected, and interdependent, and how they may give rise to each other as they interrelate to one another."
" Maini sings sweet melody lines with the elegance of a sea nymph, while Magneto releases a stream of consciousness with his streetwise wordplay, attractive rhyme schemes and smooth vocal flow."
"This is an album built to be consumed with as many speakers as your room can hold – the beats, the voices, the atmosphere and overall beauty overwhelming your senses and painting lush rhythmic landscapes in your mind."
No Comments
No comments yet.
RSS feed for comments on this post.
Sorry, the comment form is closed at this time.