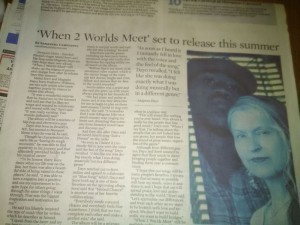 Maini and Magneto Dayo were interviewed by Daily Press, Virginia, Samantha Camilletti in Summer 2017. The interview was published on July 17th, 2017.

'When 2 Worlds Meet' set to release this Summer
"Swedish Finnish singer Maini Sorri and hip-hop artist Magneto Dayo say they hope their new album "When 2 Worlds Meet" will shake up the stigma of genres and change lives after its release later this summer.
Maini Sorri Hongslo and Magneto Dayo, born Dashawn Williams, are two solo artists who came together purely by chance to create this album.
"It was a wonderful surprise that he found me on the internet and told me that he likes my songs and wanted to collaborate and record with me," Sorri said. "It was really exciting. Two worlds definitely met."
The album will be a mixture of hip hop and electronica pop.
Dayo was born in Brooklyn, N.Y., but moved to Newport News when he was 14, he said.
"This will sound like nothing you've ever heard. This album is really for the people that love good music," Dayo said. "When I say that, I'm talking about the people that are not locked into one genre, but people that love the sound of great music, regardless of the genre."
Although from different genres, Dayo and Sorri seemed to agree that their music is about bringing people together and binding them over a common cause.
"I hope that our songs will be many people's favorites. I always hope that as many as possible will hear my music, enjoy it and share it, and I hope that we will spread peace, love and understanding to the world," Sorri said. "Let's appreciate our differences and treat each other as we want to be treated, with love and respect. We don't want to build walls, we want to build bridges."
Read the whole interview at Daily Press
No Comments
No comments yet.
RSS feed for comments on this post.
Sorry, the comment form is closed at this time.