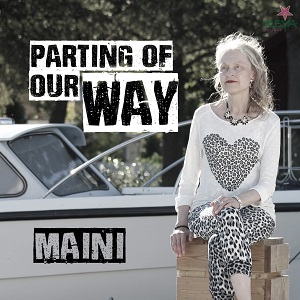 Some cuts from Maini's Parting Of Our Way reviews:  Jer at Sleeping Bag Studios writes: "Parting Of Our Way"ends up becoming quite the ride through a clever metal-melody that's got a brilliant display of contrast between sweetness and the extreme. Orlando Mestre of the USA slays the guitar-parts completely, flexing much musical-muscle, style, chops & skills…"
"Orlando was a perfect choice to bring out the vibrant guitar-riffs and non-stop energy that fuels the music of "Parting Of Our Way" – and Maini is an equally-perfect choice to bring the lyrics/vocals to life through stunning contrast."
"…it's the magic in Maini's performance that makes these words come alive.  Her sweetened tones sound innocent, yet bold in the mix of the music around her voice…"   Read the whole review here
A&R team at Got That Music LLC Records/All Purpose Music Group LLC writes: "The vocal performance has a soft angelic delivery with good melody range.".. "The overall track sound is up to industry standards, good mix. Maini Sorri is a talented singer with a powerful produced musical composition!" "It's a great song to be placed in movies and on television." "Very marketable record!"
"Great overall sound, this team of producer, songwriter and singer have a lot of potential together!"
Rick Jamm at JamSphere writes: "The whole rock, ambient metal idea, is really cool, and blending it with Maini's airy, high pitched vocals provides an interesting contrast." "Her delivery is excellent, she has wonderful tone, and her harmonies sound absolutely beautiful."
"When the music transitions from a heavier phase of the song to a dreamier, spacy feel, these transitions flow nicely. Guitars fade appropriately, percussion switches to a softer, electronic effect, and the vocals take the forefront, highlighting the strength and beauty of Maini's voice."
"Brian Lanese & Orlando Mestre produced the track, and they did a fantastic job.".. the two producers seemed to have clear ideas, without over producing. In conclusion, this is simply a fantastic track." Read the whole review here:
Brett Stewart at Independent Spotlight writes: "The intensely prolific songwriter, who now has 25 albums in her discography, has proven to be a resilient and compellingly creative talent." "Written by Gary Cornman with instrumentation by Orlando Mestre, the powerhouse track is arguably one of the more driving, bombastic efforts in Sorri's catalog"
"Vocally, I'd perhaps align Sorri with a performer like Yoko Ono. She has a very expressive, unique voice, and it's a good one, too."…"I adore how Sorri harmonizes with herself; it's a great sound." "Parting Of Our Way' is an excellent track. I love that Maini Sorri is continuing to experiment within her sound." Read the whole review here
Andrea Caccese at The BandCamp Diaries writes: "Maini is a rare talent: she is great on melodies and on moody vibes, but her brand new single, "Parting of Our Way" is also proof that she can really rock when she wants to."
"The song features really great overdriven guitar tones as well as some really powerful drums and some beautiful synth keys."… "Maini particularly shines on this track by layering multiple vocal harmonies that truly constitute the vocal strength of this track." "The song is fairly different from most of her previous work, and it is incredibly refreshing to see an artist that isn't afraid to challenge her own boundaries and constantly experiment with new things and new takes on sound."
Read the whole review here
Read Maini's promoter Jason Bonnar's great selection of  her album, EP and single reviews here.
Posted in:
cd
,
cd release
,
female vocalist
,
Listen
,
maini
,
Maini Sorri
,
music
,
My music
,
review
,
single
,
Worldwide
: :
Comments Off

on Parting Of Our Way reviews