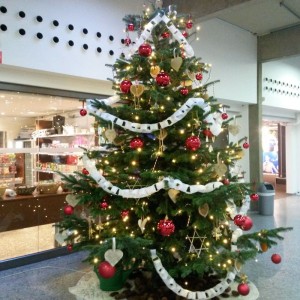 On Saint Lucy's Day December 13th 2017 Maini Sorri was invited to Swedish Radio Sisuradio in Stockholm for an interview in live broadcast in Iltapäivä talkshow. The interview was about spreading her music around the world, about being included in Spirit of December Vol. 7 album in Florida, USA, and other highlights during her career, and about her memories of Saint Lucy's Day celebration.
The interview by Jorma Ikäheimo and Hanna Paimela Lindberg is in Finnish. You can listen to it and read the article here.
The picture is of the Christmas Tree at Swedish Radio.