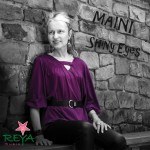 I got a lovely report from my promoter in Hollywood Trilogy Music Group. My dance single Shiny Eyes is now played on radiostations in 23 U.S states! For 2 weeks ago it was played in 17 states and now 23!! Week 23 my single is played in 23 U.S. states 🙂 This is so unbelievable!
I am learning what AL, AZ, MA, MI, MN etc means. Here are the 23 states that play Shiny Eyes: New York, Washington, California, Florida, Pennsylvania, Massachussetts, Maine, Michigan, Minnesota, Alabama, Arizona, Texas, Tennessee, New Mexico, West Virginia, Ohio, Vermont, Connecticut, New Jersey, Illinois, Rhode Island, Utah, Wisconsin. Shiny Eyes is also played in New Foundland in Canada.
For 2 weeks ago Shiny Eyes was on #4 RPM CMJ chart in USA. It means that it was #4 most added on radio station's playlists of all releases of the week in the whole USA!
AM 1700 in Michigan, USA charted me #5 on CMJ HIP HOP chart last week and WERU 89,9 FM in Maine, USA charted me  #6 on CMJ HIP HOP chart. Shiny Eyes is also played on Newusb in UK/USA. I had great pleasure to be the #4 most played artist of the week world wide for 2 weeks ago. Shiny Eyes has also been played at CFUV 101,9 FM in Victoria Canada, AiiRadio in Florida and on Musicworldradio.
If you haven't seen Shiny Eyes video by Johan Zetterlund yet, it really is a must see video! Hollywood sign, pictures from helicopter, Las Vegas, blinking lights, wow! See it here
These are my best results ever in America! Time for celebration!
Posted in:
cd
,
cd release
,
Disco queen
,
female vocalist
,
maini
,
Maini Sorri
,
music
,
Music Worldradio
,
My music
,
playlist
,
promotion
,
radio
: :
Comments Off

on Week 23 – Played in 23 U.S. states!