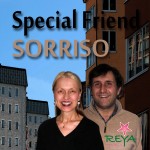 Sorriso's new single Special Friend has turned out to be a success. Radio producers from different countries give comments like "I can't wait to play this track" or "This is a successfull track".
Sorriso was The Arzuk Artist of The Week in Ridgecrest California 21st to 27th April 2011 . Maini and John want to thank Arzuk Productions for giving this great opportunity.
Gonzalo Arzamendi , CEO of Arzuk Productions, writes: "I have the opportunity to listen to the music created and composed by Sorriso, this duet between John Baumann and Maini Sorri is a joy to the ears".

"Special Friend": This song has a great strong structure the lyrics has a well specific message, the combinations of vocals between John and Maini flow with the music, with elegance and perfect coordination, The melody has a very special and singular accent, that together with the acoustic guitar make this song a joy to the ears easy to listen and grabs you from beginning to end. This song transmit to the listener the clean state of mind of the performers".
See Sorriso on CNN iReport Watch Arzuk Artist video on YouTube
Visit Sorriso website on Reverbnation
Where ever you live, you can download both Special Friend and Hiding Place on Reverbnation store $ 0,99 and ringtones $ 2.49.
Special Friend is now available on itunes around the world, here are some stores:
Itunes Sweden Itunes UK Itunes USA Itunes Italy
Switch the little flag top down right on the page and choose your own country. Search word Sorriso Special Friend.
No Comments
No comments yet.
RSS feed for comments on this post.
Sorry, the comment form is closed at this time.