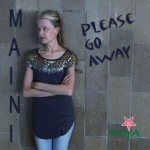 There is a new video of the new dance/techno single with heavy beats by Maini, Please Go Away. Be one of the first to comment! This is another great video by Johan Zetterlund, Sweden, who also produced Maini – Shiny Eyes video.
There are views from both Sweden and USA. This is perfect must see video this season with rain, rain and rain and if you dream of leaving the rain and cold and end up somewhere else.
Here is the link, enjoy the video on Youtube
Music by Maini Sorri, Sweden, Lyrics by Gary Cornman, USA
Music arranged, recorded, mixed and mastered by Carsten Lehmann, Germany and Jaakko Viitala, Sweden
Instruments by Jaakko Viitala & Erik Nyström, Sweden and Carsten Lehmann, Germany
Vocals recorded by Janne Jutila, Sweden
Music video produced and CD artwork pic by Johan Zetterlund, Sweden. Released November 14th 2012
Maini – Please Go Away single Released by Reya music, Sweden, November 13th 2012
No Comments
No comments yet.
RSS feed for comments on this post.
Sorry, the comment form is closed at this time.