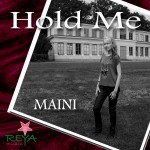 Press release June 13th 2013
Mainis new music video Hold Me is very successful. Maini has got great reports during many weeks from her promoter in Hollywood Trilogy Music Group. It takes a lot of time to follow all links to TV stations and streaming sites that have added Hold Me.
"It is interesting that the same show can reach so many people via lots of TV channels", Maini says.
Maini has seen her video on  Style-City Music Presents TV show, season 24 episode 3 on Blip TV, located in New York but the show has also been shown on over 100 TV stations in America and around the world,  among them My channel in London with a reach of  9 million TV watchers and also on Cape Town TV  in South Africa.
The oldest music video show in Virginia USA, Karamel Video Jams has Hold Me in frequent rotation. The new Knockout Live TV in Arizona, USA, "the new world leader in Blue-ray quality streaming entertainment", will use Hold Me video in a new HD variety show, taping now.
Among other channels in USA that show Mainis Hold Me video are WTR TV, The Sound Chamber On Aurora 8, the TV show Video Madness on DCTV in California.
Mainis video is added to lots of streaming sites, like Exposed Vocals, This is 50 Top Entertainment & Hip-hop Community, Shamata TV,  RNRTV, Ovation TV and many many more.
Hold Me video is also in rotation on Hiphop R&B Dance Top40 TV/radio station 98.2 The Beat in Los Angeles.
The video reaches also car dealerships, electronic stores, restaurants, hotels, and nightclubs in California and Nevada via a retail pool.
There is also a Hold Me radio campaign in UK throughout the summer.
"We're bringing you some of the best music videos from all over the world" Style-City Music writes here

Posted in:
cd
,
cd release
,
Disco queen
,
distribution
,
female vocalist
,
maini
,
Maini Sorri
,
music
,
My music
,
promotion
,
radio
,
Radio & TV
,
Recording
,
single
,
Video
: :
Comments Off

on Mainis video Hold Me on TV from New York to Cape Town