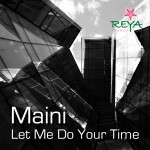 My dance techno track Let Me Do Your Time is doing great on Music Worldradio Top 20 chart. March 30th 2012 it became #2 on the chart. MWR Top 20 chart is based on listener's votes. When a track falls off the list, it will never come back again, and it is allowed to have only one song per artist at the same time.
Every week people can vote from Friday midnight to Thursday midnight. It is very easy to vote, you can cast you vote here
On Friday night it is exciting to hear which place my track and all the other tracks have. You can listen here Friday night at 10 pm CET. Choose your favourite player and say hello in shoutbox.
For some time ago I got an award. It was an honour to be nominated and to win the cathegory made me very happy:
Music World Radio's Magickal Alternative Brit Awards 2012
Best International Breakthrough Act:
Maini Sorri