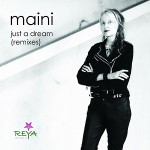 Maini – Just a Dream (Radio Edit) video has been aired several times on Arzuk TV in California among videos by other great artists.
Press releases about the release of Just A Dream (Radio Edit) video are published on many blogs, check up this blog post on Musicexistence
Read the article about Maini's video release on PRLog
See the video on beautiful Chelsea Militano's website here
You can of course see the video on Youtube
No Comments
No comments yet.
RSS feed for comments on this post.
Sorry, the comment form is closed at this time.