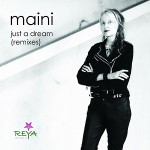 Maini's single Just A Dream (Remixes) is a great success in USA. It is now playlisted on radiostations in 20 US states, New York, California, Florida, Massachusetts, Arizona, Texas, Alabama, New Jersey, Rhode Island, Maine, Michigan, New Mexico, Minnesota, Utah, Vermont, Wisconsin, Colorado, Connecticut, Illinois and Vermont and also in Ontario and Newfoundland in Canada.
Among stations that play Just A Dream (Trilogy Dreamix) frequently is 98.2 the Beat in LA, syndicated worlwide.
Many stations has placed Maini's single high up on CMJ add playlists:
#1: WSUW 91.7 FM Whitewater, Wisconsin
#2: WERU 89.9 FM East Orland, Maine, WMNF 88.5 FM Tampa, Florida, WRUV 90.1 FM Burlington, Vermont and WXCI 91.7 FM Danbury, Connecticut.
After 2 week's radio promotion it was already playlisted in 16 US states.
Maini is also very happy for plays at Women's touch by Nick Katona at AiiRadio.net in Florida, USA, in Radio Variety Show by DJ Readman UK at MusicWordradio, in The England Swings at Radio Fairfax, Virginia, USA, in World Music Shows that are aired in USA, UK and South America at WROMradio by Tommie Brewster, New Zeeland,  on Arzuk TV, California by Gonzalo Arzamendi and in Alternation by Barry at NE1FM
Read the review of Just A Dream (Remixes) by Justin Beebe at WRUV 90,1 FM in Vermont:
"Cute as a button, Swedish Pop Dance artist Maini is back with another upbeat single titled Just a Dream. The single contains the original plus five other versions of the track. The original has more of a Disco Dance feel to it while the remixes are more EDM based. Another solid effort from Maini."
Read the original review here at WRUV
Posted in:
cd
,
cd release
,
female vocalist
,
Listen
,
maini
,
Maini Sorri
,
music
,
My music
,
playlist
,
radio
,
Radio & TV
,
single
,
UK
,
USA
: :
Comments Off

on Just A Dream (Remixes) playlisted in 20 US states
No Comments
No comments yet.
RSS feed for comments on this post.
Sorry, the comment form is closed at this time.