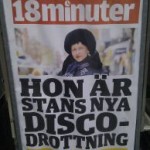 Newspaper placard: She is the New Disco Queen of the City
Maini wants to hit big
Uppsala's New Pop Queen
Forget E-type, Basic Element and Pandora. Sweden's latest Eurodisco hope Maini Sorri is from Uppsala. With the new song "Let me do your time" she had last week one of the most downloaded songs.
Maini Sorri stands out in several ways. With a history as a music teacher and with three albums and one EP in the trunk, she is no newcomer in the industry. A woman who previously recorded Finnish ballads and poems set to music, she is an odd bird among the artists on Digilistan in P3. Here she has bounced in and out in recent weeks with her latest song in the euro disco-style "Let me do your time".
– "I have written it as a ballad, as all my songs. It was my songcoach'  idea, she thought it could fit as a bit more techno", says Maini Sorri.
At best, the song has been Sweden's 26th most downloaded song in the company of hot artists like Petter and September, and Tove Styrke.
– "It's amazing. P3 has never played my music before. Everything is just so wow", she says and giggles.
The move from pop to this genre may seem a long way. But Maini Sorri is curious and like to try new things.
– "I have an acquaintance who is a rap artist, I've had a thought about a collaboration in the past but never dared to ask, but perhaps now. " She tells that the next dance hit is on it's way, but not finished.
Caption: On the upswing. Uppsala resident Maini Sorri is Sweden's new pop hope. She has now taken the step from pop to more swinging euro disco music.
Caption: Swinging. With her new euro disco hit, Let me do your time, Maini Sorri have been played on many radio stations around the world such as Spain, England and USA.
Background: Music teacher in Tierp and Enköping, artist.
Discography: Two albums in Finnish and Swedish (1998, 2006), a Christmas CD (2006) and one ep (2010) where she sings in English. And a duoprojekt – Sorriso – where she collaborates with an Italian artist (2010).
Current: with her single Let me do your time.
Translated from Swedish by Google (with a little help from Maini)
By Johanna Engman
Published in 18minuter 29th March 2011