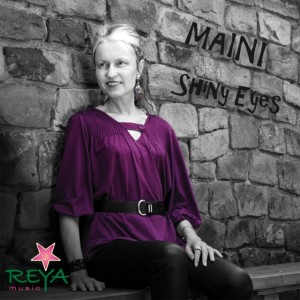 I have a new single. I hope you are curious! It is a catchy and glad dance track and it is about love.  It is already available on webshops all around the world although it won't be released before next week on May 2nd, inspite in America where it will be released on May 7th. My label is Reya music in Stockholm, Sweden.
I'm quite sure you find a webshop in your own country on the list below, otherwise please tell me and I can hopefully find a link for you. The cost is only 0,99 euro/£0,79/$0,99.
I have written the music and lyrics are by Gary Cornman from USA. The music remix is by Carsten Lehmann from Germany. It is for the first time I co-work with Carsten!
My promoter in America is Trilogy Music Group in Hollywood. My promoter in UK is Jason Boner from Liverpool. My distributer is EmuBands in UK.
Here are the links to Shiny Eyes page at each webshop. I'm quite impressed by the list.
SWEDEN
UK
USA
ITALY
FINLAND
Spotify searchword Maini
NORWAY
Spotify searchword Maini
DENMARK
GERMANY
SPAIN
7digital Spain Shiny Eyes
Spotify searchword Maini
AUSTRALIA
CANADA
FRANCE
Spotify searchword Maini
IRELAND
JAPAN
HUNGARY
NETHERLANDS
AUSTRIA
ROMANIA
itunes Romania Shiny Eyes
ESTONIA
itunes Estonia Shiny Eyes
LATVIA
itunes Latvia Shiny Eyes
LITHAUNIA
itunes Lithuania Shiny Eyes
CZECH REPUBLIC
itunes Czech Republic Shiny Eyes
GREECE
itunes Greece Shiny Eyes
PORTUGAL
itunes Portugal Shiny Eyes
MEXICO
itunes Mexico Shiny Eyes
BRAZIL
itunes Brazil Shiny Eyes
POLAND
itunes Poland Shiny Eyes
ARGENTINA
itunes Argentina Shiny Eyes
NEW ZEELAND
itunes New Zeeland Shiny Eyes
MALTA
itunes Malta Shiny Eyes
BULGARIA
itunes Bulgaria Shiny Eyes
CYPRUS
itunes Cyprus Shiny Eyes
SLOVAKIA
itunes Slovakia Shiny Eyes
SINGAPORE
7digital Singapore Shiny Eyes
You can also find my music at these stores:
1 Comment
[…] find all webshops around the world where my single is available here Tags: dance, dance hit, female vocalists, hit, hit 2012, Hollywood, maini, Maini Sorri, music, […]

Pingback by RELEASE IN USA TODAY AND A NEW VIDEO! | Maini Sorri — May 7, 2012 @ 1:16 pm
RSS feed for comments on this post.
Sorry, the comment form is closed at this time.