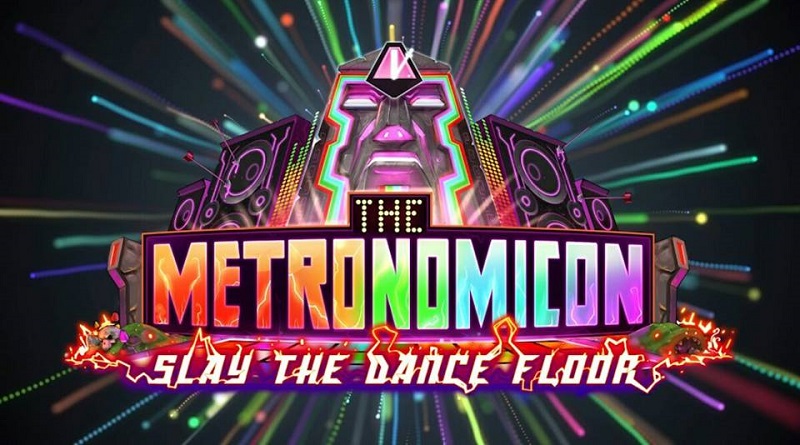 The Metronomicon: Slay the Dance Floor featuring Maini Sorri's Lost Love released for PS4 and Xbox One on August 29th and 30th 2017 respectively and following the same tradition as The Metronomicon's original PC and Mac release on September 29th 2016; Slay the Dance Floor has been receiving rave reviews ever since.
How to Purchase The Metronomicon: Slay the Dance Floor on PS4 and Xbox One
The Metronomicon: Slay the Dance Floor is available digitally via the European and US PlayStation and Xbox Live Stores with a variety of bundles and packs. You can find out how to purchase and the price points of The Metronomicon: Slay the Dance Floor on PS4 and Xbox One via the Available Now press release.
Written Reviews (in order of highest to lowest review scores)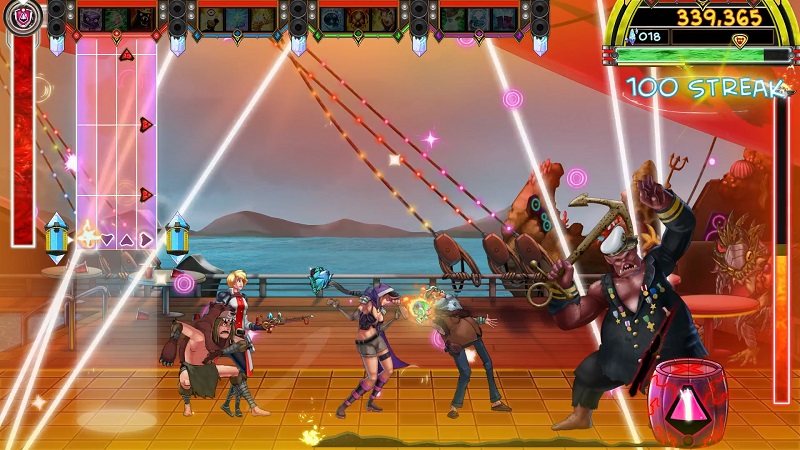 The Metronomicon: Slay the Dance Floor is receiving rave reviews on PS4 and Xbox One including the following written reviews:
The Drastik Measure – 9.9 out of 10 (PC expansion)
"Amazing blend of rhythm and RPG mechanics, good strategical depth in RPG choices with regards to equipment/skills, varied and impressive soundtrack–generally no duds, appropriate song sequencing, vibrant and over-the-top visuals paired with quirky dancing animation, packed with the Puubas' unique brand of humour everywhere–item descriptions, cutscenes, etc, various difficulty settings make it simultaneously newbie-friendly and catering to rhythm veterans, daily challenges and high score leaderboards add a LOT of replayability, wide support for controllers, guitar controllers, dance pads and HIGHLY polished."
PlayStation Nation – 9.5 out of 10
"While playing Metronomicon I didn't want to put it down until my hands hurt, and sometimes persisted in spite of the fatigue. This is just a fantastically crafted game. The systems all work great together and the soundtrack contains more earworms than should be legally allowed in a game."
Sick Critic – 9.5 out of 10
"Playing this game was a magnificent treat, both for the hands and ears. Puuba has tried to mix and match all these different genres for a while now, and they've finally hit every single note perfectly. The music was diverse, the gameplay was engaging and free-flowing, and it's one of the best games of the year. Just get it right now. An amazing audible experience that manages to keep its stride, to become a Game of The Year Contender, and the best rhythm-action game to come out in years."
Marooner's Rock – 9.4 out of 10
"The soundtrack is incredible, as before. There are multiple songs that will absolutely get stuck in your head. Addictive gameplay, killer soundtrack and adds improvements over an already great game."
Comics & Gaming Magazine – 9 out of 10
"If you're looking to unlock your inner D&D dance machine, look no further than The Metronomicon: Slay the Dance Floor. If you're feeling really ambitious, you can whip out your Rockband 4 guitars. You know, really get immersed in the whole party style. Just be prepared for some humbling gameplay and to come away singing the songs for days on end."
Desconsolados – 9 out of 10 (Spanish)
"As if it has not been noticed in the analysis, The Metronomicon: Slay the Dance Floor has enchanted me. The musical selection is enormous, varied and of quality, while the mechanics are simply great."
Gaming Trend – 9 out of 10
"The Metronomicon: Slay the Dance Floor is one of the most infectious rhythm games this year. Its perfect blend of music gameplay and RPG mechanics is an ambitious one that sticks the landing, and the addictive soundtrack will have your toe tapping long after you turned it off. Just stay away from the dancing bears if you're not shaking it like a Polaroid."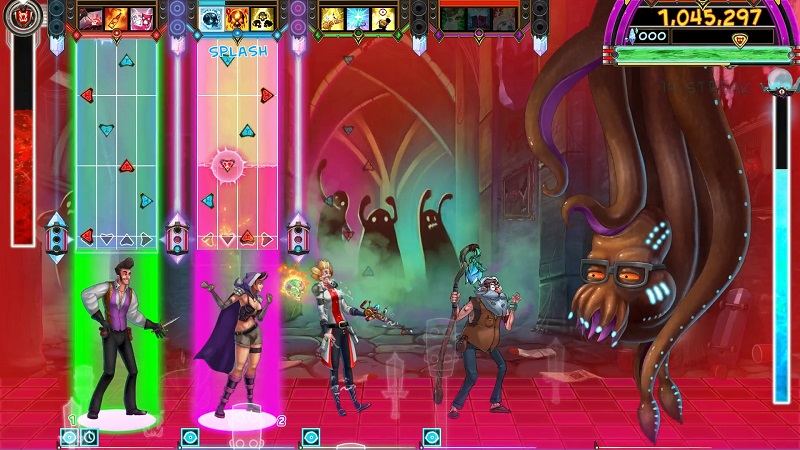 Honest Gaming Reviews – 9 out of 10
"Any rhythm game is only as good as the soundtrack of it. This is where Metronomicon really shines. There are 50 tracks in total in the base game (more to come via DLC packs) and even after 7 days straight of playing the game, I still haven't become bored with the music. There hasn't been one single time where I've thought 'Oh no , not this bloody song again'. There are a few genres included, electronica, indie, synthwave and I love them all. In conclusion, Metronomicon: Slay the Dance Floor was an absolute joy to play and I had huge amounts of fun with it. It's a title that I will come back to again and again in pursuit of higher scores and maybe sometimes just to chill out and listen to the tunes."
Life is Xbox – 85 out of 100
"Metronomicon: Slay the Dance Floor is an addictive and really fun game that uses the best from the roleplaying and rhythm genre mix. It has a great list of songs, depth and unique gameplay, replay value and more! Great soundtrack, fun gameplay with depth, replay value and really fun local co-op."
Gaming Age – 83 out of 100 (B+)
"The Metronomicon: Slay the Dance Floor went from being a game that wasn't on my radar, to being one of the more engrossing blends of video game mechanics I've played all year long. The stellar soundtrack combined with a solid base of RPG trappings makes for a really enjoyable time, and something that I doubt many developers could stick the landing on as well as Akupara Games and PUUBA have done here."
Use A Potion – 8.3 out of 10
"Still, no matter how enjoyable and on point its RPG elements might be, a rhythm game is nothing without a banging soundtrack to go with it. Thankfully, Metronomicon: Slay the Dance Floor has a great selection of tunes. Metronomicon: Slay the Dance Floor's blend of RPG action and rhythm based gameplay is something I could never have imagined working, but now that I've actually played it I simply can't get enough. It mixes up the two genres in such a creative and imaginative way, in turn providing an experience that'll provide hours upon hours of zany, adventuring fun. Whether you're a fan of RPGs or a fan of busting some moves to a rhythm game, Metronomicon: Slay the Dance Floor is definitely worth checking out."
Comicbook.com – 4 out of 5
"The song selections are very good, with some not-so-typical tracks from talented artists. It successfully merges two great tastes together into one inventive experience that players won't get enough of. It's a good time with solid controls, abundant multiplayer options (and leaderboards) and a fun little presentation. When it comes to delivering an entertaining music experience, Metronomicon kills it."
Common Sense Media – 4 out of 5
"Rhythm-based adventure that's got a quirky beat. Matching character strengths to enemy weaknesses, trying out new skills and spells, and mixing up the party members is like tuning an instrument, and when it all comes together, it's music to the player's ears."
GamesBeat (Venture Beat) – 80 out of 100
"The Metronomicon: Slay the Dance Floor is a lot of fun if you're into rhythm games. I don't think any other game quite like it is out there."
GameSpace – 8 out of 10
"Metronomicon Slay the Dance Floor is a ton of fun and I hope to see more rhythm RPGs in the future. The soundtrack is also top notch and I often had various songs stuck in my head long after I stopped playing. For anyone who likes RPGs and Rhythm games, this is one you won't want to pass up."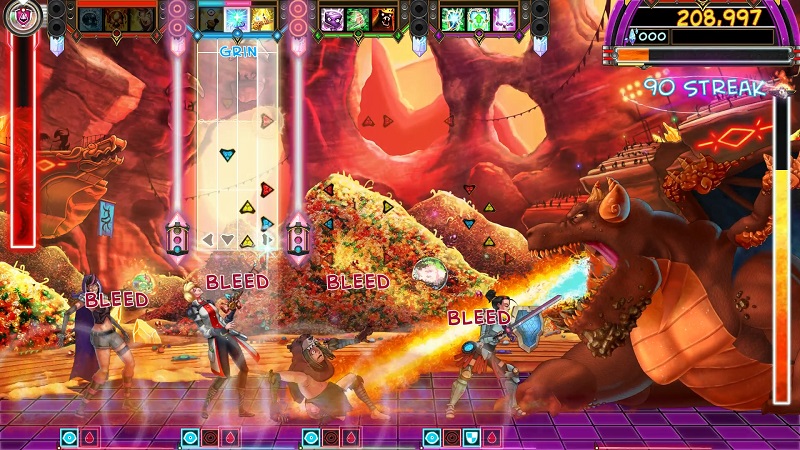 GameZone – 8 out of 10
"I'm not sure what I was expecting when I first booted up Metronomicon, but what I got was a pleasant surprise. The soundtrack is comprised of a lot of indie artists, and it's pretty great! If you're a fan of rhythm games and want to add a little bit of RPG quirk to your correctly-timed button presses, then you can't go wrong with Metronomicon: Slay the Dance Floor."
Saving Content – 4 out of 5
"The soundtrack itself has a lot of various songs from slower paced songs to fast beats of electronic or techno. It was easy to get into the music and just enjoy the beats. My 3 year old daughter watched me play and even had a blast just jumping around to the music. Some nice solid selections. The Metronomicon is a solid musical experience with a cool twist. It offers a story mode, challenge modes, and endless mode and is just a fun light-hearted rhythm game that can be fun for people of all ages. Highly recommended, and if the music genre is to a player's preference, then quest onward and tap to the beat!"
Windows Central – 4 out of 5
"A music game with RPG mechanics is something you don't see every day. Fighting monsters to electronic indie songs is quite enjoyable. Lots of modes to keep the party going, plus local co-op!"
4Players.de – 7.5 out of 10 (German)
"The mix of rhythm game and fantasy roleplaying works suprisingly well – mainly thanks to the fact that the basic mechanics don't stray too much from the Amplitude formula. So in the end it boils down to your musical tolerance. If you don't mind electronic and and a wide range of indie music, you'll get a lot of fun out of this one."
Xbox Gamer Reviews – 7.3 out of 10
"Metronomicon may not feature any of the big names in the music industry, but the songs themselves will certainly leave a lasting impression. The songs are catchy as hell. The Metronomicon has combined two opposing genres with positive effects. The role playing elements fused with rhythmic gameplay creates a fun adventure, with some wacky outlandish characters. The levelling system allows you to progress further. Finally the songs will stick in your head."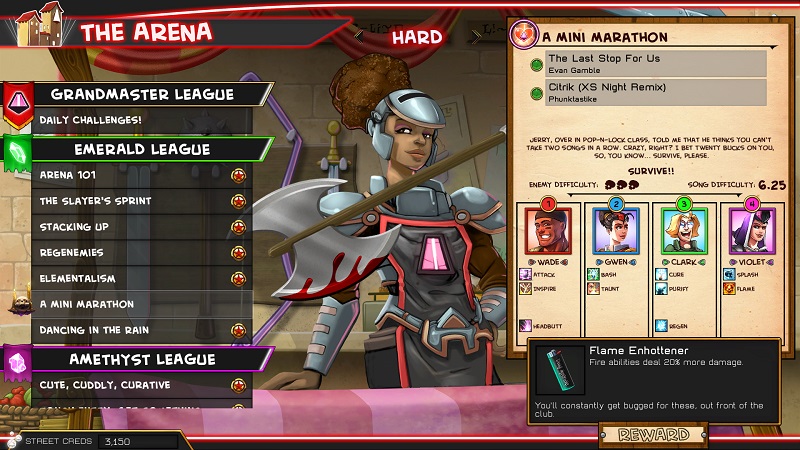 Bonus Stage – 7 out of 10
"With plenty of catchy tracks, a fantastic co-op mode and a brilliant coming together of two diametrically opposed genres, Puuba Games' The Metronomicon: Slay the Dance Floor delivers one of the more compelling rhythm games released for quite some time. Mechanically and conceptually it's as good as anything out there. It's quite unlike anything else out there, and with very few rhythm games on the market right now, The Metrnomicon: Slay the Dance Floor delivers a much welcome entry into an increasingly niche genre."
Digitally Downloaded – 7 out of 10
"Taken exclusively as a rhythm game, there is so much to appreciate about Metronomicon. It does bring some new tricks to a genre that often feels quite stale for ideas, and has a truly killer soundtrack."
Gamers Heroes – 7 out of 10
"I can safely attest that it's quite different from the typical rhythm games we have come to expect. This game has sword-and-sorcery RPG elements, a fun story, good voice-acting, a fantastic soundtrack – which is a healthy mixture of electronic, pop, techno-pop – and quirky aesthetics. And if that wasn't enough, the gameplay is actually quite deeper than it appears."
The Xbox Hub – 7 out of 10
"Decent Indie artist selection, Guitar Hero Vibe, song variety, RPG elements blend well, replayability and plenty of game modes."
Game Tyrant
"The game is a lot of fun and easily addictive! From the moment I started playing it, I caught myself constantly promising "one more song," but it was never just one more song! I thoroughly enjoyed this mix of genre! Truly an innovative title worth the hours of game play I can guarantee any music gamer will put in to it!"
Hardcore Gamer
"The Metronomicon: Slay the Dance Floor has grabbed me all over again, especially with well-designed PlayStation trophies that keeps the next one tantalizing close to unlocking. Anyone that enjoys a good rhythm game set to electronic music would be only hurting themselves if they don't open up The Metronomicon now."
Reviews and Gameplay Stream Videos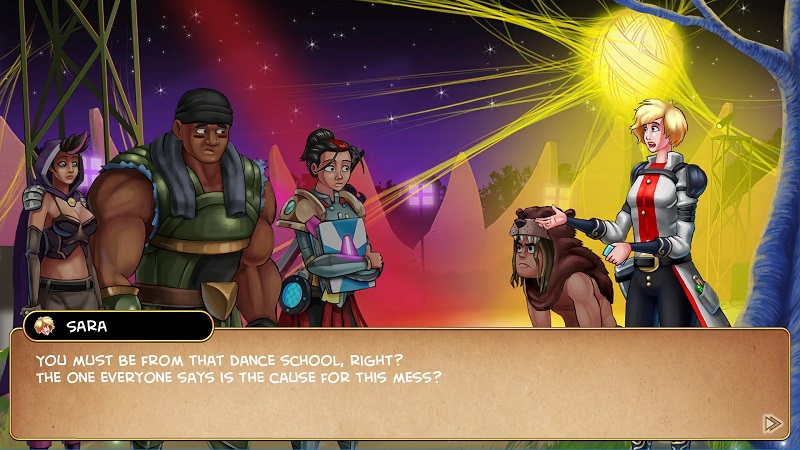 There are also a variety of YouTube videos accompanying written reviews or capturing live gameplay streams including the following:
Let's Play The Metronomicon: Slay the Dance Floor #1 – Behonkiss Plays (Gameplay Stream)
The Metronomicon: Slay the Dance Floor – Full Game Hard Mode (1st Try) [Xbox One] – CladMaster Gaming (Gameplay Stream)
The Metronomicon: Slay the Dance Floor Gameplay – Gaming Trend (Gameplay Stream)
The Metronomicon: Slay the Dance Floor – PS4 Gameplay 1st Look – Nalyo Gaming (Gameplay Stream)
Official Developer Videos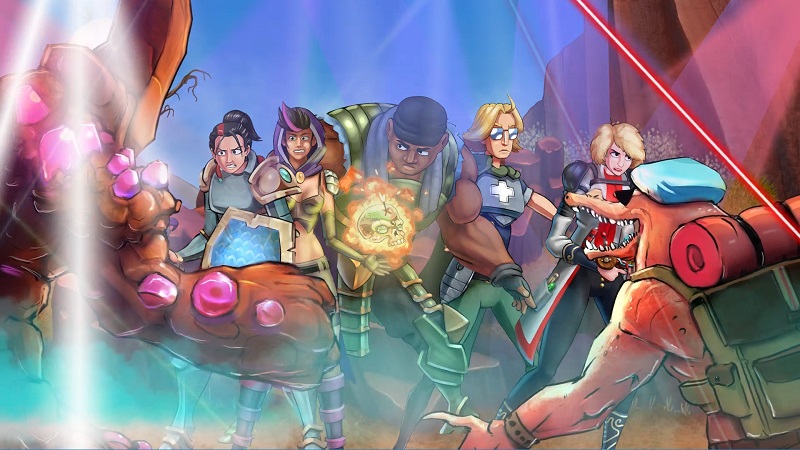 There are official developer videos such as trailers including:
Home Console Announcement Trailer
The Metronomicon Minute #8 – Cut Scenes (featuring Maini Sorri's Lost Love)
No Comments
No comments yet.
RSS feed for comments on this post.
Sorry, the comment form is closed at this time.