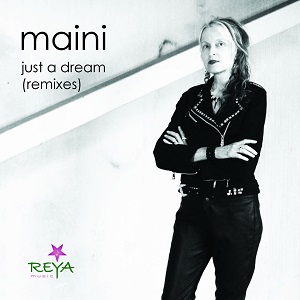 Maini's new EP Just A Dream (Remixes) is released on 11th November 2013 by Reya music. For the first time Maini co-works with her promoter from Hollywood. The remix of Just A Dream (Trilogy Dreamix) is by Maria Jhoanna F. Roberto from Hollywood who made the beautiful layout of the cd artwork too.
Just A Dream (Trilogy Dreamix) is a faster and more electronic version than the more disco like Just A Dream (Radio Edit), remixed by Carsten Lehmann from Germany. You find 2 completely different versions that surely will be liked by Maini's fans.
There are 4 more versions of Just A Dream on this maxi single, like Just A Dream (Remix) and Just A Dream (Trilogy Dreamix) [Instrumental Version].
Maini has, as always, written the music, lyrics are by Gary Cornman, USA. Just A Dream (Remixes) is available on iTunes all over the world, you find buy links to Just A Dream (Remixes) on iTunes in different countries here. It is also available in lots of other big webshops and streaming sites as Amazon and Spotify around the world.
Maini has two promoters in UK to promote the new cd to radio and listeners in UK and other parts of the world, Jason Boner from Liverpool and PR Manilla from Scotland.
Radio promotion in USA kicks of today by Trilogy in Hollywood.
Posted in:
cd
,
cd release
,
Disco queen
,
distribution
,
female vocalist
,
Hollywood
,
Listen
,
maini
,
music
,
My music
,
promotion
,
radio
,
Recording
,
UK
: :
Comments Off

on Maini's new EP is a Hollywood, Germany, Sweden collaboration
No Comments
No comments yet.
RSS feed for comments on this post.
Sorry, the comment form is closed at this time.