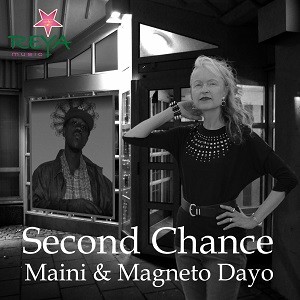 Maini and Magneto Dayo's new single Second Chance has got great reviews from around the world. Rick Jamm from London writes in Jamsphere Magazine: "In "Second Chance" her performance is almost angelic and plays a perfect foil to Magneto Dayo's easy-paced rhymes. He flows and she flies. Like heaven and earth" Read the whole review here.
Rick Jamm's review is also published in Soundlooks (He flows and she flies…like heaven and earth) and in VideoMusicStars (Second Chance – Euro-styled rap and dance).
DownBeatz write in there review: "Their recent single "Second Chance" is a great taste of their eclectic attitude and great production skills. The song strikes punchy and direct from the very first beat… it's about to become a total club banger!" Read the whole review here
Bree Morcroft, freelance writer from Melbourne, Australia writes: "New York Hip Hop mixed with Swedish Pop… it only takes one listen to stick in your head, and when the instrumental version starts playing – you will be singing". Read the whole review here.
Joshua Smotherton writes in Middle Tennessee Music.com: "With it's upbeat, make-you-move energy and the vocal stylings of Maini's singing blended with Dayo's flow, this single is a must for your next dance party. Don't be surprised when you hear this the next time you hit the club". Read the whole review here
Bradley Rust, freelance writer from Australia writes: "Two very compelling voices make for a fresh blast of dance floor moving sounds. Fun, catchy and unique" Read the whole review here.
Brett Stewart, Chicago writes in Independent Spotlight: "I love the induction of Magneto Dayo to Sorri's style. She mixes perfectly with his strong, powerful hip hop delivery. One of the things about Sorri's music that I've always found especially compelling is her ability to work with a myriad of artists and collaborators across great distances to significant success". Read the whole review here
Carsten Lehmann has written the music. Lyrics are by Maini Sorri and Magneto Dayo. The label behind the release is Reya music from Sweden.