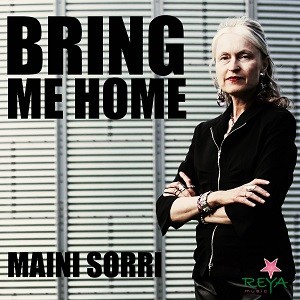 Maini Sorri's new pop/rock/dance album Bring Me Home is released on September 20th 2018.
Brian Lanese from Los Angeles contacted Maini Sorri by email in 2015, to be considered for the opportunity to produce her next record. The co-work started immediately resulting in the Bring Me Home album.
Brian Lanese is a three time Emmy Award winner and lead singer in the multiple Grammy-nominated LA band Permanent Ability. Band's guitarist Orlando Mestre, the co-producer, arranger and instrumentalist of the album, has participated in "America's Got Talent" and toured around the world.
The title song Bring Me Home is based on a true story that Maini told Gary Cornman from USA. Gary, the lyricist of all the songs on the album, surprised Maini by writing a poem about her adventure that Maini then composed.
All songs on the album, except Bring Me Home, have previously been released as singles. Lost Love (Dance Remix) climbed on two national DRT Top Charts for 5000+ radio stations in June 2015. Lost Love is featured amongst the incredible 50 song soundtrack in the stunning videogame The Metronomicon: Slay the Dance Floor. Label is Reya music.
Listen to Bring Me Home album on Spotify
Bring Me Home is also available around the world here: Amazon, iTunes, 7 Digital, Google Play, Tidal and Claro Musica in South America.
Read more about Maini Sorri, Brian Lanese, Orlando Mestre and Permanent Ability.
No Comments
No comments yet.
RSS feed for comments on this post.
Sorry, the comment form is closed at this time.