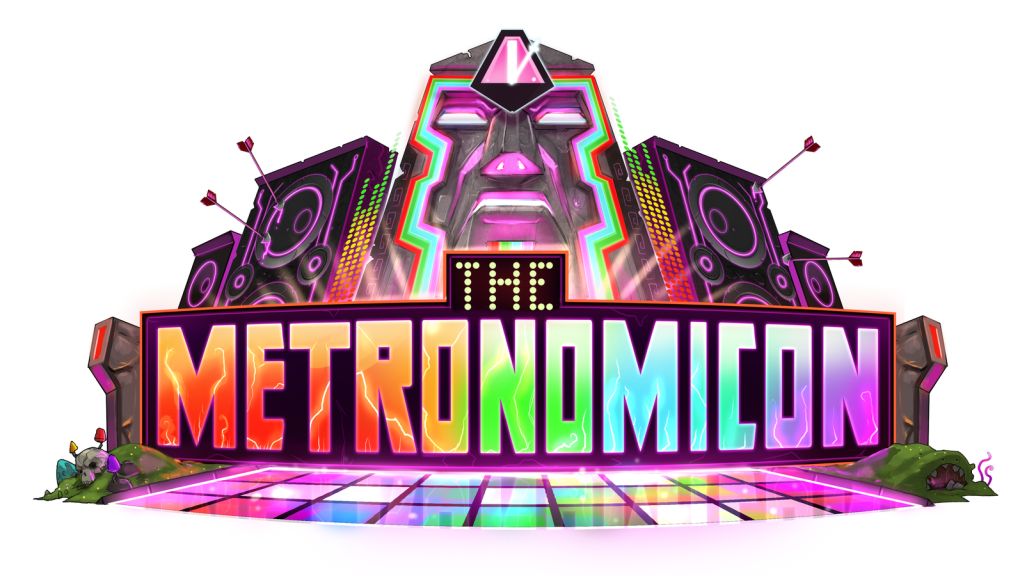 Maini Sorri's song Lost Love is featured amongst the incredible 50 song soundtrack in the stunning videogame The Metronomicon; an imaginative mixture of dance rhythm, action and role playing game genres developed by Puuba Games and published by Kasedo Games which officially released for PC and Mac on September 29th 2016. The Metronomicon is available as a digital release on Steam for £14.99, while the soundtrack consisting of 38 songs is available separately for £5.99 or can be purchased as a Deluxe Edition bundle including the game, a digital art book and the soundtrack for £18.88.
A free post-launch update has fulfilled the massive demand from players for user generated content. Players are now able to utilise the very same tools that Puuba Games used when developing the game; resulting in players being able to create choreography for any song you want to. In addition to The Metronomicon Step Editor; compatibility with the StepMania Editor has also be included with full support to import StepMania's popular .SM, .DWI and .SSC file formats into the game. You can play custom created tracks in Free Play Mode and Story Mode with leaderboard functionality via a unique music track ID; therefore effectively providing infinite replay value. A full tutorial is available for The Metronomicon Step Editor and the StepMania Editor.
Written Reviews (in order of highest to lowest review scores)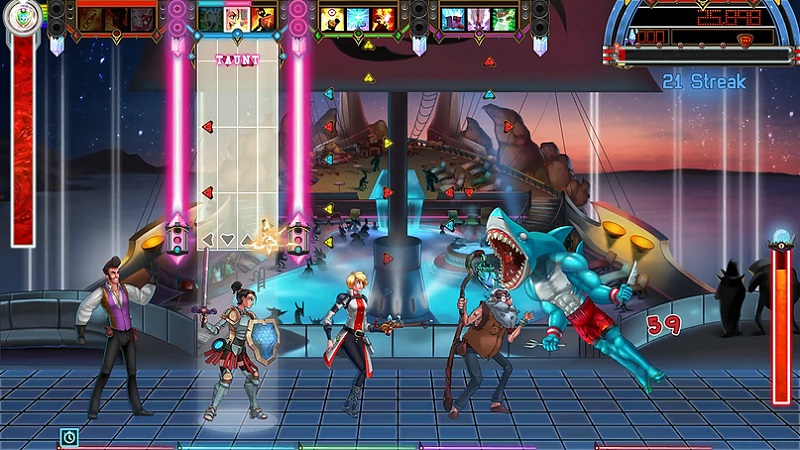 The Metronomicon is receiving rave reviews including the following written reviews:
Payne Reactor – 5 out of 5
"Its gameplay is addictive, its music is funky and its graphics are awesome. It has story, it has voice acting and it's polished to extend. Above my expectations of an indie game. The unique RPG twist that Puuba managed to incorporate into the rhythm game genre, is a stroke of genius."
The Drastik Measure – 9.7 out of 10
"Varied and impressive soundtrack. Vibrant and over-the-top visuals paired with quirky dancing animations. Daily challenges and high score leaderboards add a LOT of replayability. Wide support for controllers, guitar controllers and dance pads. HIGHLY polished."
Marooners' Rock – 9.5 out of 10
"It is an interesting mashup, but the important question is: Does it work? And the answer is yes, yes it does."
Bemanistyle – 9 out of 10
"The music and immediately recognizable rhythm elements are likely what will draw people to the game, but the sidequests and item collecting really flesh out the game. There is actually a lot to dive into given the game's reasonable price tag."
Brash Games – 9 out of 10
"The Metronomicon is a great rhythm game that excels in every area. Different, but familiar gameplay – check. Awesome songs – check. Great replayability – check. The promise of future tracks – check. If you are looking for a rhythm game to play then The Metronomicon is one of the best."
Christ Centred Gamer – 9 out of 10
"Fun Rhythm/RPG mashup game with great music. The songs are mostly electronic dance music, however there are a few rock ones in there. The music is really good."
GameWatcher – 9 out of 10
"The Metronomicon sets itself apart by way of numerous RPG mechanics that actually make you strategize a bit while you're trying to keep the rhythm of the song going"
Gaming Trend – 9 out of 10
"Bright, bold, and loud is the Metronomicon…thegame is pure, unfiltered goodness"
TechRaptor – 9 out of 10
"With a killer soundtrack, some fun mechanics, and quite a lot of content, The Metronomicon is a beat worth getting down to"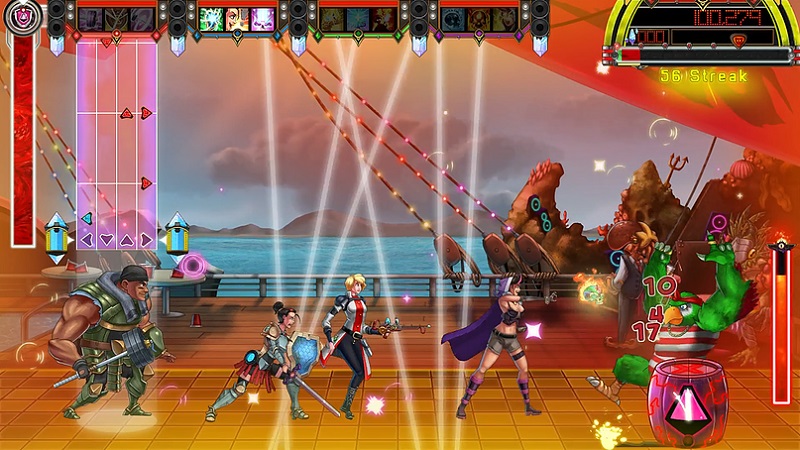 Game Vortex – 8.8 out of 10
"If you're a fan of RPGs and D&D, you're okay with poking fun at them and you like rhythm games, you might just love The Metronomicon."
New Game Network – 8.7 out of 10
"With an impressively novel and well-done approach to gameplay, as well as a great tracklist and campaign to back it up, The Metronomicon is one of the best rhythm games in recent memory."
Capsule Computers – 8.5 out of 10
"The Metronomicon is the new benchmark that all other rhythm games on the PC should be measured against"
Cog Connected – 8.5 out of 10
"With the colourful and fun character design, this is a game that should be dancing into everyone's homes"
Press Play Media – 8.4 out of 10
"The inclusion of adventure and RPG elements works great. If you're a PC gamer and you were jealous of console owners with all their rhythm titles – be jealous no more."
VG Professional – 8.1 out of 10
"The Metronomicon is a clever take on rhythm games that mixes in RPGs and manages to add a new element of challenge."
Hardcore Gamer – 8 out of 10
"…such a great soundtrack"
Hey Poor Player – 4 out of 5
"Of course, a game like this is only as good as its soundtrack, and Metronomicon delivers on that front and then some. I don't even like electronic music typically (I'm more of a classic rock and metal kinda guy), but I still sound myself humming and tapping my feet to the soundtrack's catchy beats."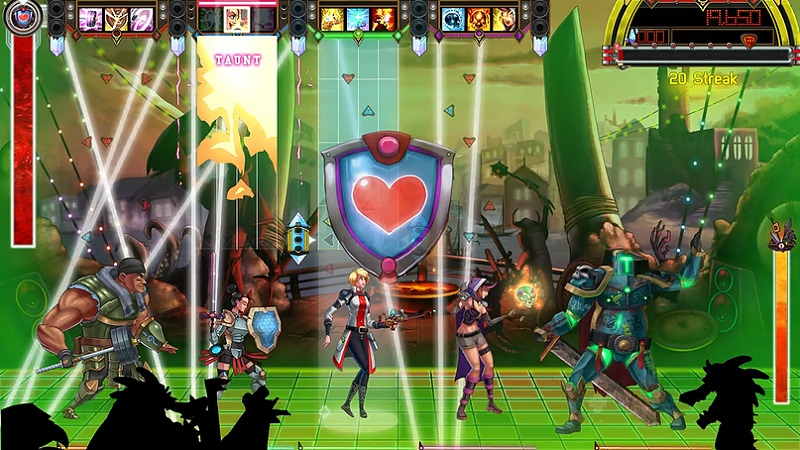 RPGamer – 4 out of 5
"Anyone who's interested in the strategic side of classic RPG combat and isn't afraid of the beat should give The Metronomicon a look"
We Got This Covered – 4 out of 5
"The task of combining rhythm action and RPG gameplay styles is not one that many developers would have been able to pull off as well as Puuba have with The Metronomicon. As well as a stack of great jams and entertaining gameplay, there's plenty of polish and enough depth here to keep you stepping back to the dance floor."
Worth Playing – 8 out of 10
"The different modes give the game some legs, while the soundtrack is absolutely fantastic. Thankfully, The Metronomicon delivers. There are around 50 tracks, and there are no duds in the set, making this one of the stronger licensed soundtracks in recent memory. The Metronomicon is certainly recommended for rhythm fans."
Mammoth Gamers – 7.5 out of 10
"With its colorful visuals, catchy music, and simple but challenging gameplay; The Metronomicon is bound to hook fans of the rhythm genre while its RPG mechanics and various modes give players a reason to keep coming back for more."
PLAY! Zine – 7.5 out of 10
"A bold step for the music/rhythm genre that is sure to scratch your itch, especially if you grew tired of the mainstream games that used to dominate the genre."
Hooked Gamers – 7.3 out of 10
"The Metronomicon comes together in a neat package which rhythm game fans will certainly get a deal of enjoyment out of. Bringing in the RPG elements makes this game stand out from other rhythm games, and there's enough here to keep you going through the end of the game and beyond."
GameGrin – 7 out of 10
"Fun and entertaining with its eclectic mix of indies"
OnRPG – 3.5 out of 5
"It's a quirky, enjoyable, amusing title that would definitely appeal to an audience that enjoyed the games it's inspired from!"
Lifted Geek – 3 out of 5
"It is very well polished, runs super smooth, the input calibration was spot on, no bugs or glitches, animations and voice acting were great."
Written Previews
GamesRadar
"The Metronomicon brilliantly combines dance battles and boss battles. Make no mistake: The Metronomicon may look like a simple, arcadey button-tapping rhythm game, but there's a ton of depth here for RPG min/maxers to really sink their teeth into, and you'll get to jam out to some great music while you do it."
Polygon
"Metronomicon mashes music and role-playing with fantastic results"
Reviews and Gameplay Stream Videos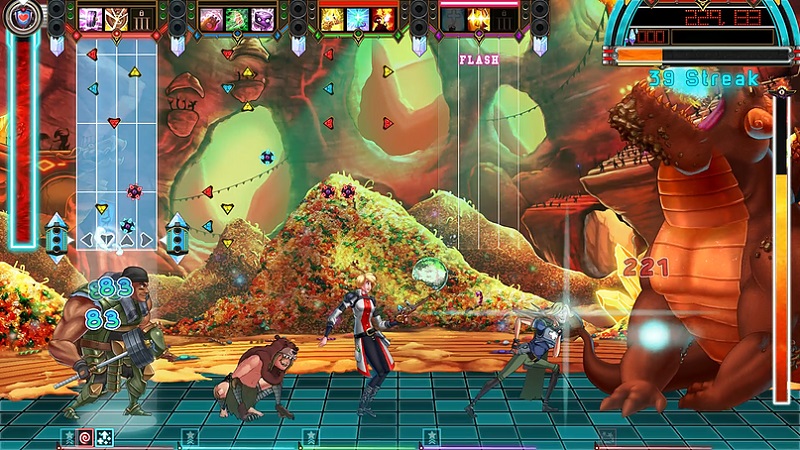 There are also a variety of YouTube videos accompanying written reviews or capturing live gameplay streams including the following:
GameSpot (Battling Monsters with the Power of Music Gameplay from PAX East 2016)
Let's Try The Metronomicon – You Got Your Glowsticks in my Chainmail (Gameplay Stream)
Smash Gaming – Smash Look! The Metronomicon Gameplay
Total Biscuit, A Cynical Brit – 'Ave A Gander At The Metronomicon
Yujoon Twitch – The Metronomicon: First 2 Areas (Gameplay Stream)
User Generated Content Showcase Videos
These YouTube videos showcase some of the best User Generated Content created by gamers for The Metronomicon:
K3W3L – The Metronomicon – UGC Showcase #1
K3W3L – Finally, My UGC Finished!
Official Developer Videos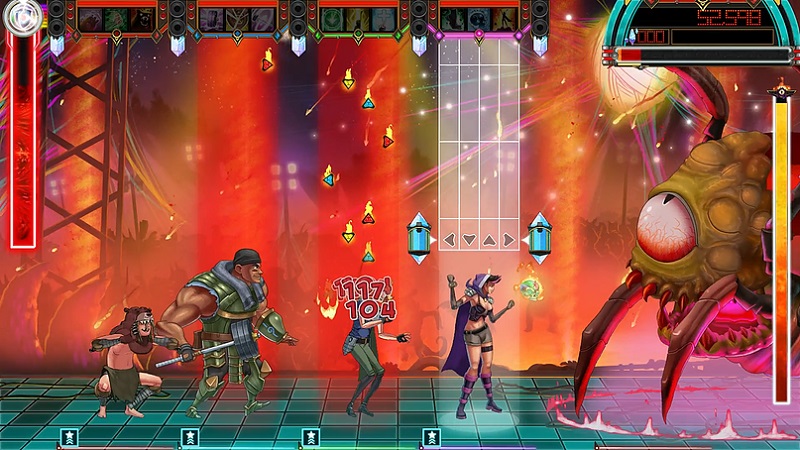 There are official developer videos such as trailers and gameplay explanations including:
The Metronomicon Minute #10 – Soundtrack Announcement (Part 2)
The Metronomicon Minute #9 – Soundtrack Announcement (Part 1)
The Metronomicon Minute #8 – Cut Scenes
The Metronomicon Minute #7 – Peripherals
The Metronomicon Minute #6 – Quests and Challenges
The Metronomicon Minute #5 – Funky Dance Monster Concepts
The Metronomicon Minute #4 – Developer Diary
The Metronomicon Minute #3 – Developer Diary from PAX East 2016
The Metronomicon Minute #2 – Developer Diary
The Metronomicon Minute #1 – Developer Diary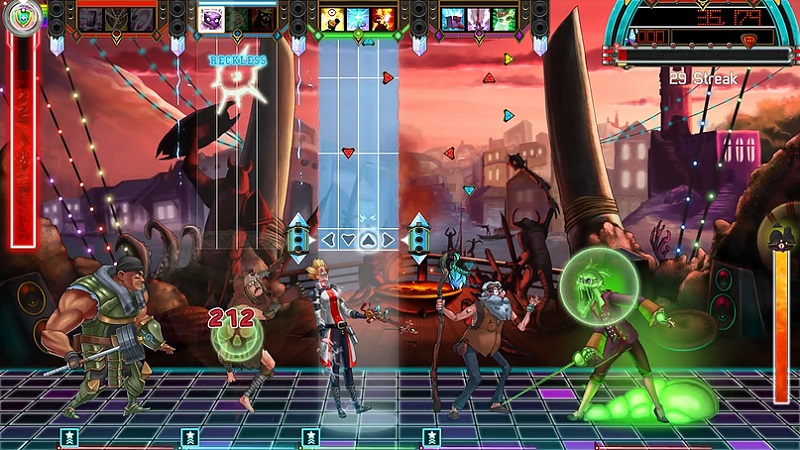 No Comments
No comments yet.
RSS feed for comments on this post.
Sorry, the comment form is closed at this time.