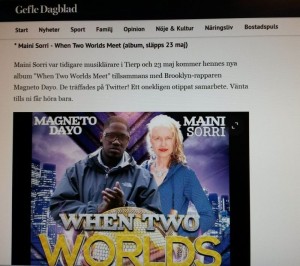 Gefle Dagblad, Nils Palmeby wrote about "best Gästrike releases ni April" on April 30th 2018.
About "Maini Sorri & Magneto Dayo – When Two Worlds Meet" he wrote (translated by Maini):
"Maini Sorri – When Two Worlds Meet (album, release May 23)
Maini Sorri was a former music teacher in Tierp and on May 23, her new album "When Two Worlds Meet" together with Brooklyn rapper Magneto Dayo will be released. They met on Twitter! An undeniably unexpected cooperation. Just wait until you hear."
Text under the picture: "Maini Sorri's new album. Doesn't sound like anything we've heard before."
If you are a subscriber of Gefle Dagblad you can read the article here
No Comments
No comments yet.
RSS feed for comments on this post.
Sorry, the comment form is closed at this time.