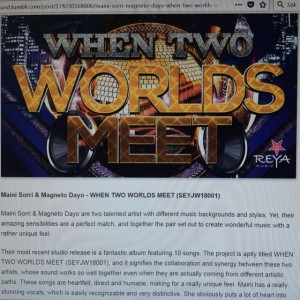 Review of Maini Sorri & Magneto Dayo – When Two Worlds Meet was published in More More Sound on May 24th 2018. Here are some quiotes:
"Maini Sorri & Magneto Dayo are two talented artists with different music backgrounds and styles. Yet, their amazing sensibilities are a perfect match, and together the pair set out to create wonderful music with a rather unique feel."
"Their most recent studio release is a fantastic album featuring 10 songs."
"Maini has a really stunning vocals, which is easily recognizable and very distinctive. She obviously puts a lot of heart into her work, and Magneto complements her beautifully with a strong vision and an amazing approach to music, bringing his hip-hop and R&B influences to the table, further enriching the group's artistic vision."
"The quality of the mix in this release is particularly excellent. Every track is really balanced, and there is a strong attention to the sonic details in this release."
You can read the whole review here.