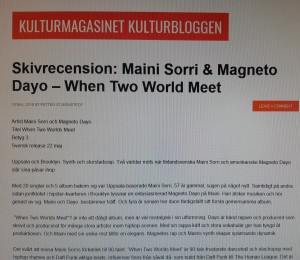 Review of When Two Worlds Meet was published in Kulturbloggen (Culture Blog) on May 18th 2018, by Petter Stjernstedt. You can read the whole review in Swedish here:
Here are some quiotes, translated into English by Google and Maini:
"Uppsala and Brooklyn. Synth and metropolis rap. Two worlds meet when Finnish Swedish Maini Sorri and American Magneto Dayo beat their bags together. With 20 singles and 5 albums behind her, Uppsala-based Maini Sorri, 57 years old, was looking for something new. At the same time on the other side of the globe in the hipster neighborhood of Brooklyn, an enthusiastic Magneto Dayo is listening to Maini. He loves the music and contacts her immediately. Maini and Dayo decide to meet. And four years later, the duo has completed his first joint album…"
"Dayo is famous rapper and producer, who has written and produced for many great artists in the hip hop scene. With his quick jaw and big vocabulary, he gives weight to the production. And Maini with her unique voice adds an elegance. Magnetos rap and Mainis synth create exciting dynamics…"
"Blue Song was released in 2014 and quickly climbed up on the National Airplay Top Charts list. It's a dance-like piece where the tough reggae is mixed with dance hall and electro. "Second Chance" puts a nice synth-breaks across the beats."
"When Two Worlds Meet", the great highlight of the album, is the modern Kendrik Lamar that hits perfectly."
"Together, they explore conventions and clamps with resolute strides over established domains. "When Two Worlds Meet" is an album with a big courage. When two worlds meet, beautiful things can happen. In these times of tightened migration policy and xenophobia, it is a message we cannot hear too many times."
You can read the whole review, translated into English on review section of Maini Sorri's website here
No Comments
No comments yet.
RSS feed for comments on this post.
Sorry, the comment form is closed at this time.