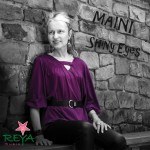 SUCCESS IN THE U.S FOR MAINI SORRI
Uppsala resident Maini Sorris new single Shiny Eyes, released on May 2, is played after the launch of many radio stations in the United States.
The song was this week # 4 on the CMJ Charts Top5 list of all the week's release throughout the U.S. and has been added to playlists at radio stations in 17 U.S. states, which include New York and California, as well as Newfoundland in Canada.
Upsala Nya Tidning May 23 2012 Page: 3 – Part: 2
English version by Johan Zetterlund
© UNT
FRAMGÅNG I USA FÖR MAINI SORRI
Upsala Nya Tidning  2012-05-23  Sida: 3  –  Del:2
Uppsalabon Maini Sorris nya singel Shiny eyes, som släpptes den 2 maj, spelas efter lanseringen på många radiostationer i USA.
Låten låg denna vecka #4 på CMJ Charts Top5 lista för alla veckans release i hela USA och har lagts till på radiostationers spellistor i 17 amerikanska delstater, där bland annat New York och Kalifornien är några avdessa, men även Newfoundland i Kanada. UNT
© Upsala Nya Tidning
Posted in:
cd
,
cd release
,
female vocalist
,
maini
,
Maini Sorri
,
music
,
My music
,
Newspaper Article
,
playlist
,
radio
,
Radio & TV
: :
Comments Off

on Newspaper Article: Success in the U.S. for Maini Sorri