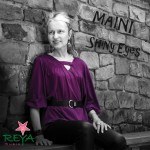 Wow, Shiny Eyes is doing really great in USA. Shiny Eyes video is a big success, it is in rotation every 7th hour at  radio/TV station in Los Angeles Top40, Hip hop & Rnb 98.2 The Beat!
3 times a day in Los Angeles, that is the biggest city in California and second biggest in USA. Thank you DJ King Assassin! He told me that he loves my sound. I'm happy

That is not enough, my single from 2011 Let Me Do Your Time video is put back in rotation at 98.2 the Beat and is rotating with Shiny Eyes

Thank you for that too DJ King Assassin! It is so cool to see both videos there!
You can see these must see videos on Youtube:
Shiny Eyes by Johan Zetterlund here
Let Me Do Your Time by nothingilistic here
Posted in:
cd
,
cd release
,
female vocalist
,
maini
,
Maini Sorri
,
music
,
My music
,
playlist
,
radio
,
Radio & TV
,
Recording
,
Video
: :
Comments Off
No Comments
No comments yet.
RSS feed for comments on this post.
Sorry, the comment form is closed at this time.