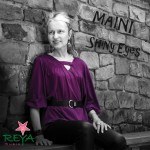 Yes! Shiny Eyes is now released and already playing daily in Los Angeles. I got a very long list of webshops from my distributer EmuBands. I studied it today and found: where ever you live, there seem to be either  Deezer or itunes there you can find my track. You can also go to Spotify and listen to my track. For detailed list of webshops, see my previous blog post here If you don't find the track where you live, I promise to send to you an mp3, no problem. Just drop me a line. I recently sent Shiny Eyes to a listener in Indonesia 🙂
I hope you like Shiny Eyes!
Released by Reya music May 2012. Music by Maini Sorri, lyrics by Gary Cornman and remix by Carsten Lemann.
Cd artwork pic Johan Zetterlund.
No Comments
No comments yet.
RSS feed for comments on this post.
Sorry, the comment form is closed at this time.