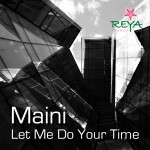 Review by The Tea Room Music, UK  January 17 2011
"Maini's new single 'Let Me Do Your Time' is a good example of Euro club music- within seconds of the song beginning, you can imagine yourself dancing away in Ibiza. The music is fairly strong – there is a heavy techno background to it with a good melody, composed by Maini herself. The production and arrangement is fantastic and makes the instrumental parts of the track highly enjoyable"..
See the video here Maini – Let Me Do Your Time
No Comments
No comments yet.
RSS feed for comments on this post.
Sorry, the comment form is closed at this time.