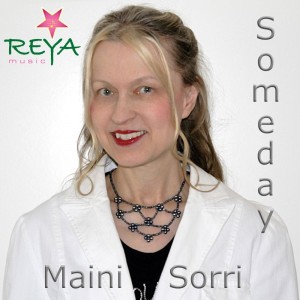 "SOMEDAY",  by MAINI SORRI, on Reya Music, Review in County Times
Released next Monday, this EP has five songs by Scandinavian singer songwriter and composer Maini Sorri, who has been making a name for herself right across Europe and beyond.
With a Finnish background, Sorri has lived for most of her life in Sweden, but has also worked with an American songwriter and an Italian artist on various projects. These have  included the Sorriso band, which released an EP last January.
The new EP opens with a springy "Someday", which is also to be released individually as a single. It's followed by the more interesting "I Am Leaving", and the sweet Euro sound of "I Shouldn't Have Trusted You" with some amuzing phrases and rhymes. "Like An Angel" sounds a little rushed but is still fine before the final song in Finnish "Lahden yksin" and your guess as to what  it's about is as good as mine. Still the band works hard and the set is well produced to introduce Sorri for British music fans.
No Comments
No comments yet.
RSS feed for comments on this post.
Sorry, the comment form is closed at this time.