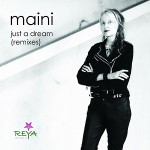 Just A Dream (Remixes) is now #1 on CMJ RPM adds chart in New York at M3 Radio and playlisted in 24 US states: New York, California, Florida, Texas, Tennessee, Arkansas, Arizona, Alabama, Colorado, Connecticut, Florida, Illinois, Massachusetts, Maine, Michigan, New Hampshire,  New Jersey, New Mexico, Rhode Island, Utah, Pennsylvania, Ohio, Vermont and Wisconsin, and also in Newfoundland and Ontario in Canada.
Among the radio stations that have play listed Just A Dream (Trilogy Dreamix) is Hip Hop Rap station 98.2 the Beat in Los Angeles, syndicated worldwide, that play Mainis track several times a day.
Mainis Just A Dream (Trilogy Dreamix) Official video is a featured video on Mixshowblast.com in Los Angeles. Mixshowblast is highly ranked in US but also in Japan and Singapore.
KQVMFM in Los Angeles has playlisted Just A Dream (Trilogy Dreamix), syndicated with radiostations in New York and Netherlands
Posted in:
cd
,
cd release
,
chart
,
female vocalist
,
Listen
,
maini
,
Maini Sorri
,
music
,
My music
,
playlist
,
radio
,
Radio & TV
,
Recording
,
single
,
USA
,
Video
: :
Comments Off
No Comments
No comments yet.
RSS feed for comments on this post.
Sorry, the comment form is closed at this time.