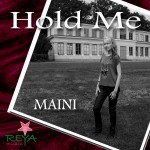 Mainis catchy dance single Hold Me is available from Australia to USA. Follow the links to Hold Me pages in different stores around the world:
Maini – Hold Me at JB Hi Fi (Australia)
itunes:  itunes USA  itunes UK    itunes Sweden
itunes Finland    itunes Norway   itunes Italy    itunes Denmark   itunes Germany  itunes Spain  itunes  Canada
or click the little flag top down right on the page and choose the flag of your country to come to itunes in your country.
WiMP (Norway)
Listen to Hold Me, it is in the player here on Mainis website.
See the great Maini – Hold Me – Official Music Video, produced by video director W.A. Henderson from Los Angeles, here
Hold Me was released by Reya music, Sweden on May 7th 2013.
No Comments
No comments yet.
RSS feed for comments on this post.
Sorry, the comment form is closed at this time.