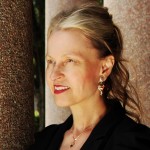 "Maini Sorri has to be Sweden's best kept secret as far as British audiences are concerned. The woman from Uppsala's profile is really only known to the minority dedicated lovers of Scandinavian music in the U.K. and that is a shame as her album Someday: Volume Two is a sweet, intelligent and enjoyable piece of work.
Ms. Sorri's vocals glide through the songs with a sense of finely tuned beauty and whilst it is difficult enough to change the written lyrics of one language to another, to change a style could be deemed as an even harder challenge but Maini Sorri provides a great awareness in her voice of what can grab the listener carefully by the hand and touch their heart with finely tuned sentiment.
Like the current fascination for Scandinavian Noir which has crossed from one side of the North Sea to the other with an almost pulsating appreciation, Maini has tapped into a vibe with her songs of innocence and a devastating anguish with Only A Memory, the delightful Oh Echo, the wonderful child-like despair of I Shouldn't Have Trusted You and the exquisite Lahden Yksin (A Finnish version of the song I Am Leaving) which also gets a superb airing on the album.
The album certainly deserves attention and so does Maini Sorri, it certainly cannot be easy for any singer or band from that part of the world as they constantly have the image of Sweden's most famous musical export constantly bandied around them. The world has moved on since the heady days of Abba-mania but in some ways the music of that nation never seems to get a look in without someone always asking if they will be as successful.
No matter what Ms. Sorri does next, this album will be a crowning glory of Scandinavian music".
Ian D. Hall
Liverpool Sound and Vision Rating * * * *
Maini Sorri, Someday: Volume Two. Album Review
December 18, 2012
You can read the review at Liverpool Sound and Vision here
No Comments
No comments yet.
RSS feed for comments on this post.
Sorry, the comment form is closed at this time.