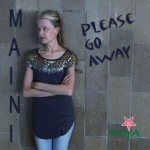 "Swedish Pop Dance sensation, Maini, is back with another single titled Please Go Away. The music is high energy Pop Dance but this time there are some seriously rocking guitars backing up the track. Cute as ever, this hard rocking yet perky dance track is hard to resist.
Tracks: All good."
Review by  Justin Beebe (justintime)
WRUV Reviews November 18th 2012, Vermont, USA
You can also read the review here
No Comments
No comments yet.
RSS feed for comments on this post.
Sorry, the comment form is closed at this time.