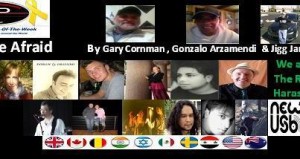 Relaxmuz.ru is the site about any news from the world of relaxing music including new albums, personal news, interviews, reviews. Relaxmuz.ru publish links for introductive listening and buying of albums.
Relaxmuz.ru has written about Don't Be Afraid video featuring artists from around the world. Don't Be Afraid is against all kind of discrimination. You can read the article and watch the Don't Be Afraid video here
The artists are in alphabetic order Akif Haseeb – India, Diane Marie – USA, Doron Orsiano- Israel, Glenn Jackson – UK, Gonzo – Mexico, Hendrik Grubber – Germany, Ivy Shadowplay – Australia, Jigg Jangs – USA, Lex Scudo – Germany, Maini Sorri – Sweden, Menahem Avnaim – Israel, Michael Hansson – Sweden and Steffi K – Germany. Don't Be Afraid is produced by Gonzalo Arzamendi at Arzuk Productions in California and East2west Studio in Idaho.
Relaxmuz.ru has also written an article about Mainis dance single Shiny Eyes, released by Reya music 2012. You can read the article and watch the Shiny Eyes video by Johan Zetterlund here
2 Comments
Thank you dear Gonzo for a great production and wonderful support! Hugs

Comment by Maini Sorri — November 13, 2012 @ 2:09 pm
RSS feed for comments on this post.
Sorry, the comment form is closed at this time.