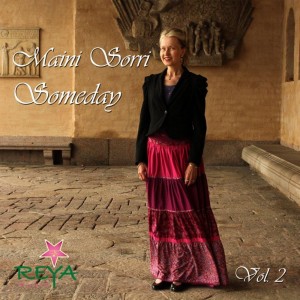 Maini Sorris new album Someday Vol. 2 will be released 14th November 2011 by Reya music, Sweden. It contains 10 songs: #1 Someday #2 Only A Memory #3 Oh Echo #4 Highway #5 I Am Leaving #6 I Shouldn't Have Trusted You #7 Like An Angel #8 Dreamworld #9 Like A Golden Eagle #10 Lähden yksin. PR campaign run by Manilla PR in UK.
Mainis previous album Someday got excellent reviews in UK.
All music is written by Maini. Lyrics to track #3 and #8 are written by Gary Cornman, USA. The rest of the songs are translated into English by the legendary Finnish artist Barbara Helsingius. Original lyrics are by Mikko Anttila #1 #2, Ritva Ala-Särkelä #4, Marjo-Riitta Oksanen #5 #7 #10 and Ritva Östlin #9. Music backgrounds are mostly by Jaakko Viitala, music background to #4 is by Seppo Ihme and to #8 by Piyasiri.
Cd artwork photo is by Johan Zetterlund.
You can soon listen to all 10 tracks of Someday Vol. 2 on Mainis bandcampsite.
The tracks of Someday Vol. 2 are available for purchase on web shops around the world. You find a Someday Vol. 2 page on your favourite store in different parts of the world:
SWEDEN
UK
Spotify searchword Maini Someday Vol. 2
USA
ITALY
FINLAND
7digital Finland Someday Vol. 2
Spotify searchword Maini Someday Vol. 2
NORWAY
Spotify searchword Maini Someday Vol. 2
DENMARK
GERMANY
7digital Germany Someday Vol. 2
SPAIN
itunes Spain Someday Vol. 2
Spotify searchword Maini Someday Vol. 2
AUSTRALIA
CANADA
7digital Canada Someday Vol. 2
FRANCE
7digital France Someday Vol. 2
Spotify searchword Maini Someday Vol. 2
IRELAND

itunes Ireland Someday Vol. 2
JAPAN
HUNGARY

itunes Hungary Someday Vol. 2
NETHERLANDS
itunes Nederland Someday Vol. 2
Spotify searchword Maini Vol. 2
AUSTRIA
RUSSIA, SINGAPORE, SOUTH AFRICA, SLOVAKIA, SLOVANIA, ROMANIA, MEXICO, INDIA, BRAZIL, POLAND
Nokia music searchword Maini Someday Vol. 2
LATVIA, LITHAUNIA,ESTONIA, CZECH REPUBLIC, CYPRUS, BULGARIA, MALTA, LUXENBOURG, POLAND
eMusic searchword Maini Someday Vol. 2
NEW ZEELAND, GREECE, PORTUGAL, BELGIUM, SWITZERLAND
itunes searchword Maini Someday Vol. 2